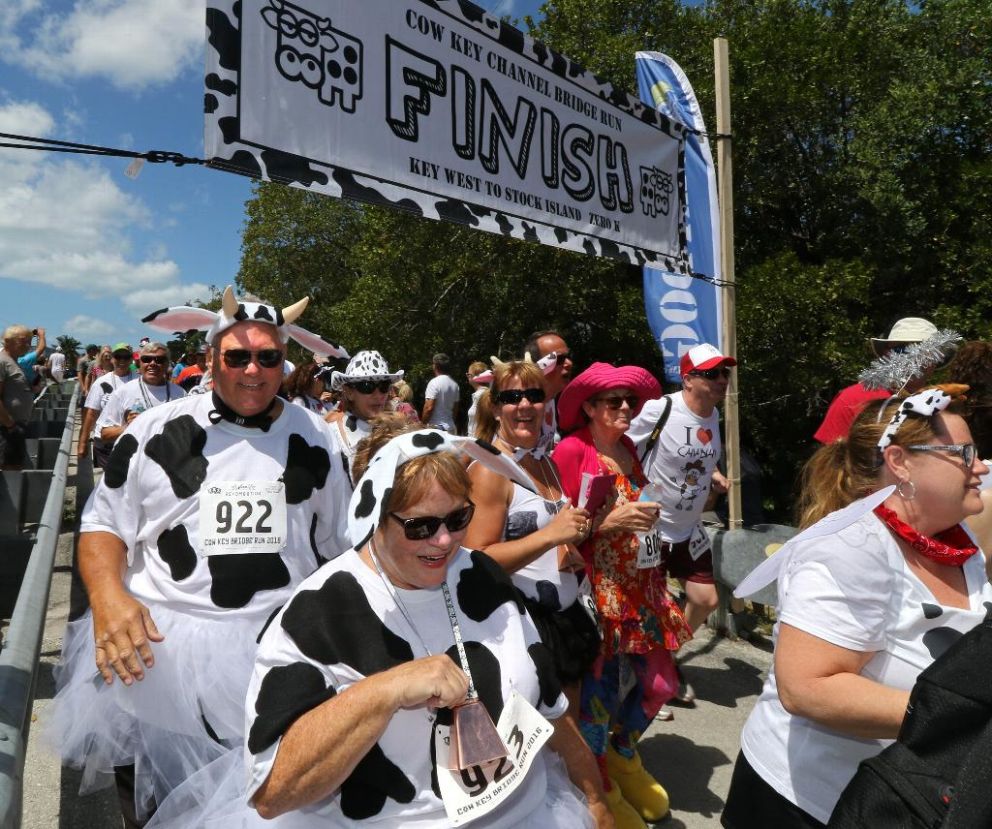 Join the Herd in the Annual Cow Key Channel Bridge Run
Key West is the land of the longest parade in the world, the smallest parade in the universe, and perhaps the only Zero K "marathon" in the galaxy.
Held on the 360-foot bridge that connects Key West to the rest of the Keys, the annual Cow Key Channel Bridge Run is a static marathon made for those of us who like to sleep late and not break a sweat. This year's event will be held Feb. 29 at noon, followed by a "Moos & Booze" party and awards ceremony at the Sunset Green Event Lawn next to The Gates Hotel Key West.
The annual "run" attracts up to 1,000 participants looking to get in on the bemusing bridge-crossing. It's another zany event that gives Key West its eccentric character, with many "runners" dressing up for the occasion. Participants can expect lots of puns, cow costumes, cowbells, and cold beer close to the finish line.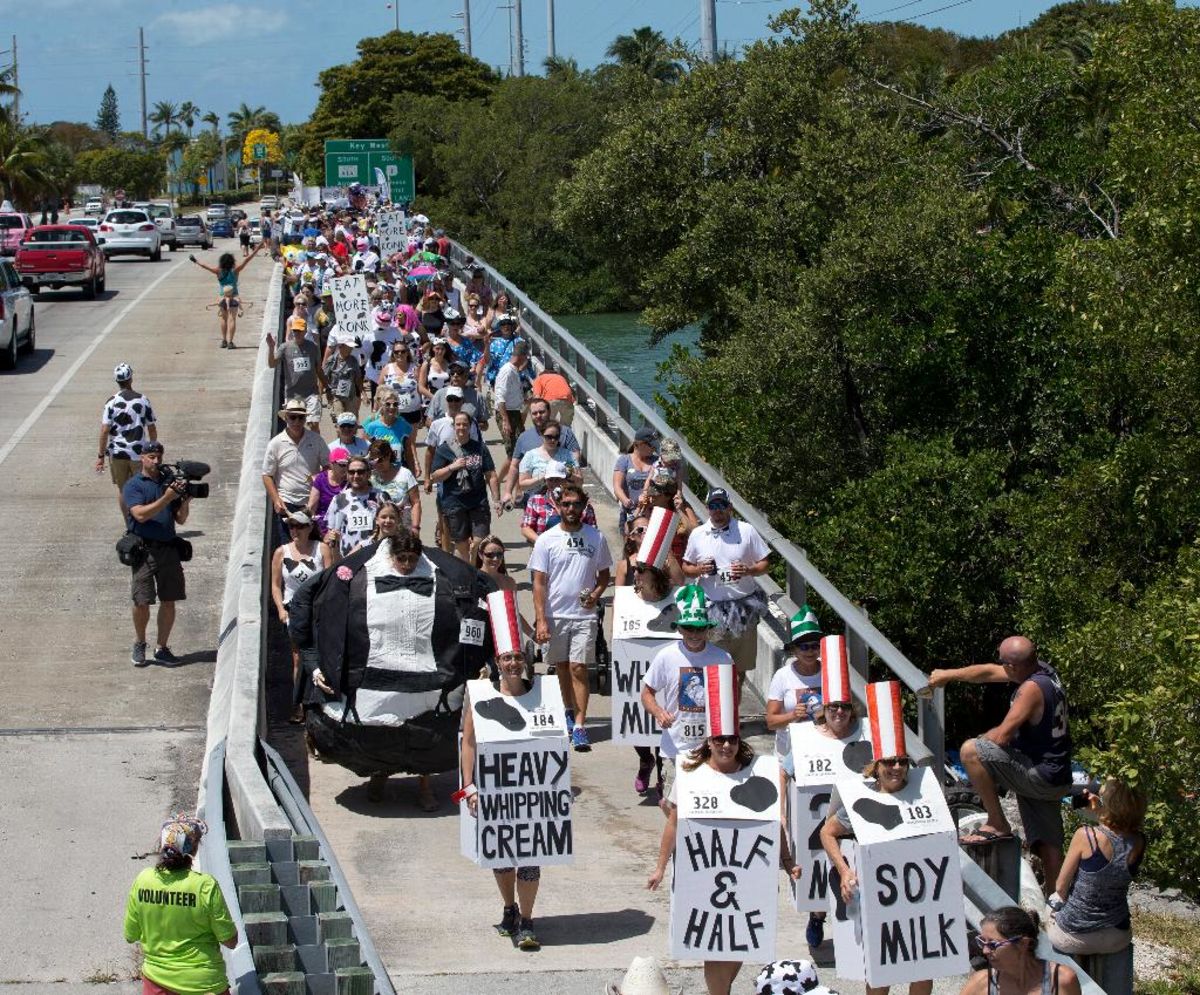 The inclusive event welcomes the young, the old, and their pets. Participants will gather on the Key West side of the 360-foot long bridge as early as 10 am for photo-ops with Mo the Sloth, costume judging, and shirt and bib sales and pick-up.
Fifteen minutes prior to the "race" at noon, runners will convene at the foot of the bridge for the opening ceremony with the event's "Grand Moobah," Cow Key Channel Girl, and proceed to "race" in their predetermined heat: 1st Place Contenders (23.1 seconds record), Pets with Humans, Relay Teams, The Walking Cow Stampede (the main event), and Last Place (slowest across while maintaining forward motion). A water station will be located mid-bridge.
Due to limited free parking in the main garage of sponsor Marriott Beachside Hotel (3841 North Roosevelt Boulevard) and in the lots between 24 North and The Gates, participants are encouraged to walk, bike or get dropped off at the race starting location. Registration is $10 and can be done at the event or online at cowkeybridgerun.com. Partial proceeds will go to the Monroe County Sheriff's Animal Farm.
After the event, which is expected to last until roughly 1:15pm, the official after party and award ceremony will be held at the Sunset Green Event Lawn at The Gates Hotel, located right near the finish line at 3824 N. Roosevelt Blvd. Enjoy drink specials, a live DJ, access to The Blind Pig food truck, and more.
Looking for accomodations? Consider staying with us at The Gates! We're not only the site of the after-party – we're also pet-friendly, offer hourly shuttle-service to Old Town, and more. See photos of The Gates and read about nearby attractions.
--
Want to escape winter? Book your trip to Key West in the Sunshine State. See special offers at The Gates Hotel, recognized by Condé Nast for its stellar accommodations in Key West.
---
---
---
---