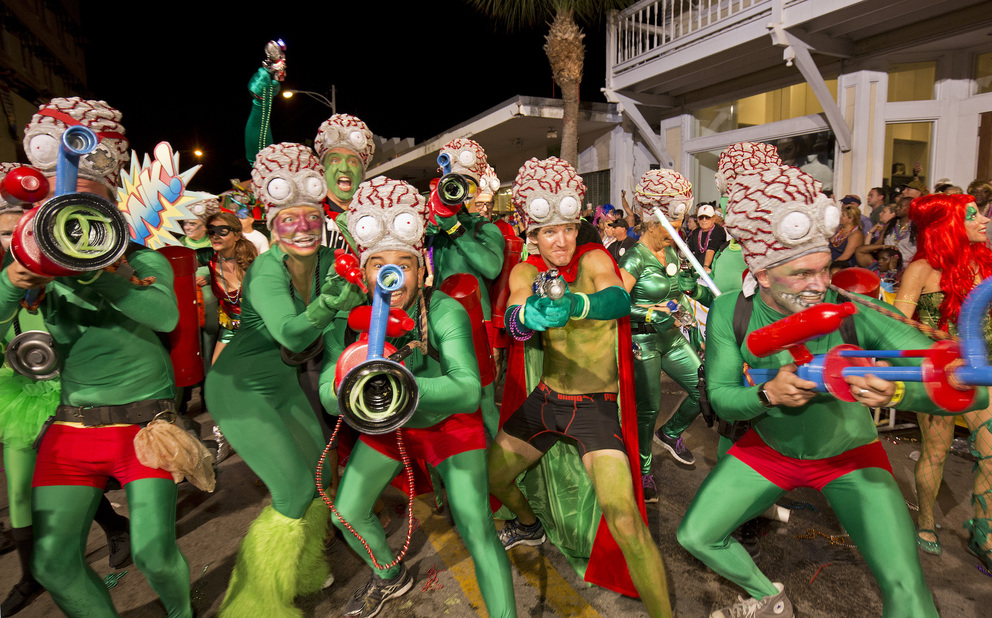 Best Spots to Watch the Fantasy Fest Parade
The week of Fantasy Fest all leads up to the great parade on Duval Street. The parade features giant floats, costumes, entertainment and more, with prizes handed out the best of the rest. The parade is so creatively stunning that it draws an estimated 75,000 attendees to this area of Key West to see the show.
This year's music-themed parade starts at the end of Southard Street with Woodstock and travels through disco, punk, new wave ... not sure where to watch it? Let's review your options.
This year's parade route looks like this. Any restaurant or bar balcony along the route is usually accessible with a fee, with prices starting at $100. This is an option for those who want a table away from the crowds, access to a bathroom and drink service. Call around ahead of time to reserve a spot.
If you're looking for a mellow spot to avoid the crowds, try getting a spot right near where the parade starts, at the corner of Greene and Whitehead Streets. If you arrive an hour or so early, you should be able to snag a curbside spot, and crowds are usually two-deep in this area. Another option is the corner of Eaton and Duval Street, closer toward the end of the parade.
Others who prefer to be closer to the action opt for being part of the big crowd toward the end of the promenade. Some things to know: This year, parade judges are located at the intersection of Duval and Truman streets. This is where the showmanship will be at its peak. Groups on floats vying for different prizes will show the most energy here.
Remember, the scarcest commodity during the parade is a bathroom. Scope out your options ahead of time. Additionally, travel light! The crowd makes movement difficult, and you don't want to lug around any bags to further slow you down.
The Key West International Airport was named one of the busiest small airports in 2019. Key West is a tempting destination, and its accessibility has never been better.
Seasonal, direct flights are now available to Philadelphia, New York and Chicago from February through the end of August. Direct flights are currently available year-round from Newark, Charlotte, Dallas/Fort Worth, and Atlanta.
If you're thinking about a visit to Key West, don't delay! It's always summer in the Conch Republic.
The Gates Hotel is a Condé Nast award-winning hotel located in New Town, which offers free hourly shuttle service to Old Town. Exciting onsite amenities – like a food truck, cigar lounge, and a spectacular swimming pool – puts The Gates in its own special category. Check out our special offers online.
---
---
---
---
Share your opinion on this article