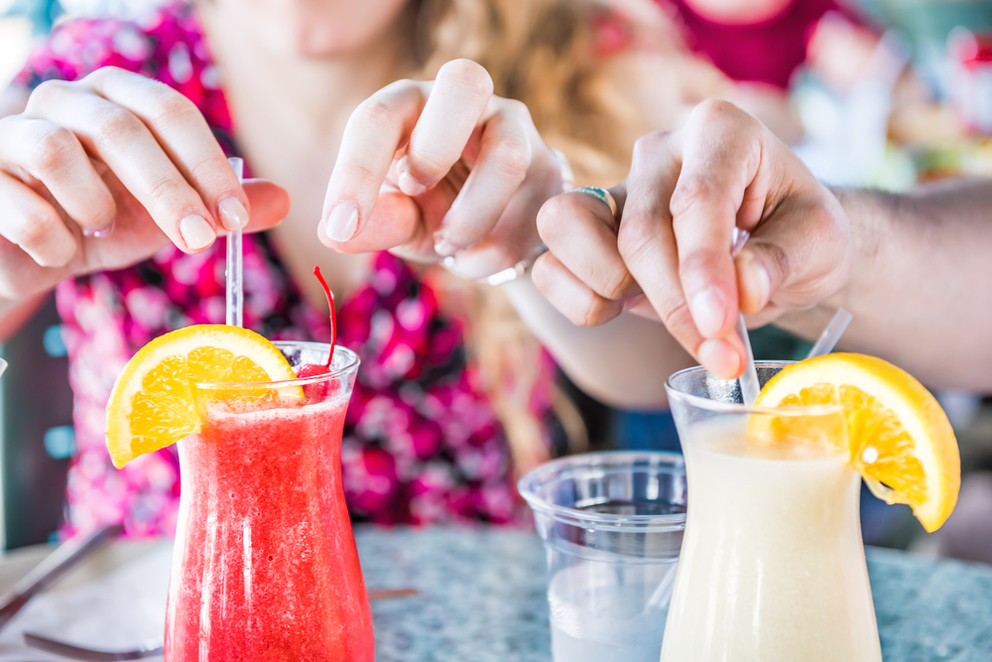 Beat the Heat with these 5 Cool KW Cocktails
At The Gates Key West, we know that both the sun and mixed drinks in Key West have a reputation for being potent. Visitors should maintain their hydration while on the island, but sometimes a frozen, iced, or straight-up refreshing cocktail does the trick to cool off.
Here are our favorite cocktail drinks across the island to beat the heat. Remember to drink responsibly and stay hydrated!
Tomoka Mojito at Rum Row
If you're staying at The Gates Hotel Key West, you don't have to go far for this one, specially mixed at our onsite Rum Row Bar & Lounge. Made with local Key West 1st Legal Rum Distillery, this minty mojito topped with lime juice and a club soda float is not only served cold on ice, it's also finely refreshing. 3824 N. Roosevelt Blvd., Key West
Dirty Monkey at Flying Monkeys
Located right in the thick of it on Duval Street, Flying Monkeys is a godsend on a hot day. Escape the sun under one of their shaded outdoor tables and take your pick from an impressive selection of frozen drinks mixed with grain alcohol. We particularly like the Dirty Monkey, made with banana, chocolate ice cream and vodka -- though everyone has their favorite. This is a great place to take a break, people watch and enjoy a drink, served in a commemorative souvenir cup. 227 Duval St., Key West
[Our Favorite Rum Cocktails & Recipes]
Adios Pantalones! At Caroline's Other Side
This mixed drink at Caroline's is like a cool slice of watermelon in July. Made with watermelon juice, High West Double Rye, coconut oolong tea and lemon juice, a sip of Adios Pantalones! Is a cool breeze in your direction. 429 Caroline St., Key West
Frozen Sangria at Frita's Cuban Burgers
Frita's serves some of the best burgers in town, and it also features frozen sangria. Order a cup of this flavorful, not-to-sweet spin on a classic in this small, quaint spot located near Harry S. Truman Little White House. 425 Southard St., Key West
Frozen Rum Runner at Sloppy Joe's
There's nothing more Key West than a rum runner, originally founded in the Florida Keys and named after bootleggers that were commonplace during prohibition. The famous Sloppy Joe's on Duval Street mixes up the best frozen rum runner in town! Enjoy this Key West classic enhanced in its frozen form. 201 Duval St., Key West
---
Booking a trip to Key West? Check out rates at The Gates Hotel
---
---
---
---
Share your opinion on this article