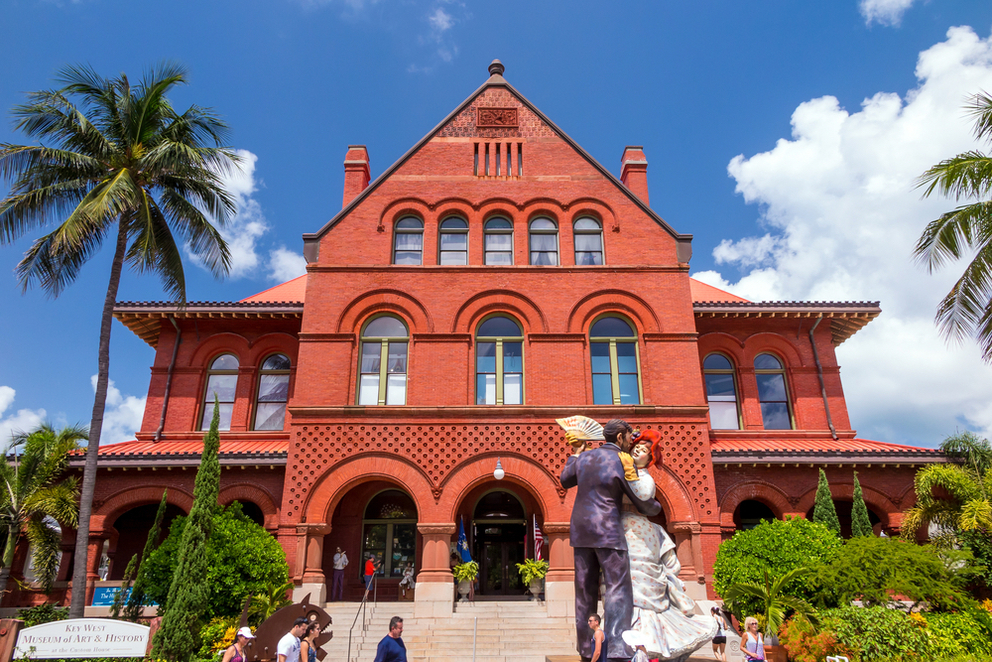 Notable Buildings in Key West's Historic District
The structures that have withstood numerous hurricanes and devastating fires in Key West's Old Town give us a glimpse of the island's past. Spanish-tiled buildings established by Cuban exiles and architecture of the Queen Anne Victorian influence show a diverse patchwork of people that have called the island home.
See if you can spot any of these historic buildings on your walk around the Old Town Historic District.
San Carlos Institute
516 Duval Street
Built with funds from the Cuban government, this heritage center houses a theatre, library, conference center, art gallery and museum. Its permanent exhibitions portray Cuban history and the center was a popular stopping point for the revolutionary José Martí. San Carlos was originally founded in the late 1800s by Cuban exiles as a patriotic club and school. After the original building was destroyed by a fire (and its subsequent building damaged by a hurricane), the beautiful institute at 516 Duval St. was inaugurated in 1924. It continues the tradition of its forefathers today, so stop by for a visit. The institute is open daily from noon to 5 pm. Admission is free.
The Custom House
281 Front Street
This Romanesque Revivalist beast of a building has acted as a customs house, district court, Navy operation headquarters and is now the Key West Art & Historical Society. Located right near Mallory Square across from the Audubon House, you can't miss this national landmark. Built in 1891, today The Custom House is on the US National Register of Historic Places. Visit today and check out two floors of museum exhibitions that cover the island's history, art, people and events. Open daily 9:30 am to 4:30 pm. Admission is $10.
Hemingway Home
907 Whitehead Street
The limestone house in Old Town was already 80 years old when Ernest Hemingway and his wife Pauline bought it in 1931. Built in 1851 by salvage wrecker Asa Tift, the home today is one of the top tourist attractions on the island. Home to the late, great American author during his 10-year tenure in Key West, today it houses 6-toed cats and some of Hemingway's belongings. Admission includes a 30-minute guided tour. Museum open daily from 9 am to 5 pm. Cash only.
The Oldest House in South Florida
322 Duval Street

Built in 1829, this testament to time is a museum and garden, free to the public. The one-and-a-half story house was built on what today is prime real estate – Duval Street in Old Town. Of course, the builder from the Bahamas could never have imagined what the area would become. While in Old Town, stop by for a short visit to see period pieces, family portraits and small exhibits related to Key West History. Take regufe in the backyard garden, tucked away from the bustle of Duval Street. Open 10 am to 4 pm daily, closed Sundays and Wednesdays. Donations are appreciated.
---
Check rates at The Gates Hotel – a Condè Nast award-winning hotel in Key West.
---
---
---
---