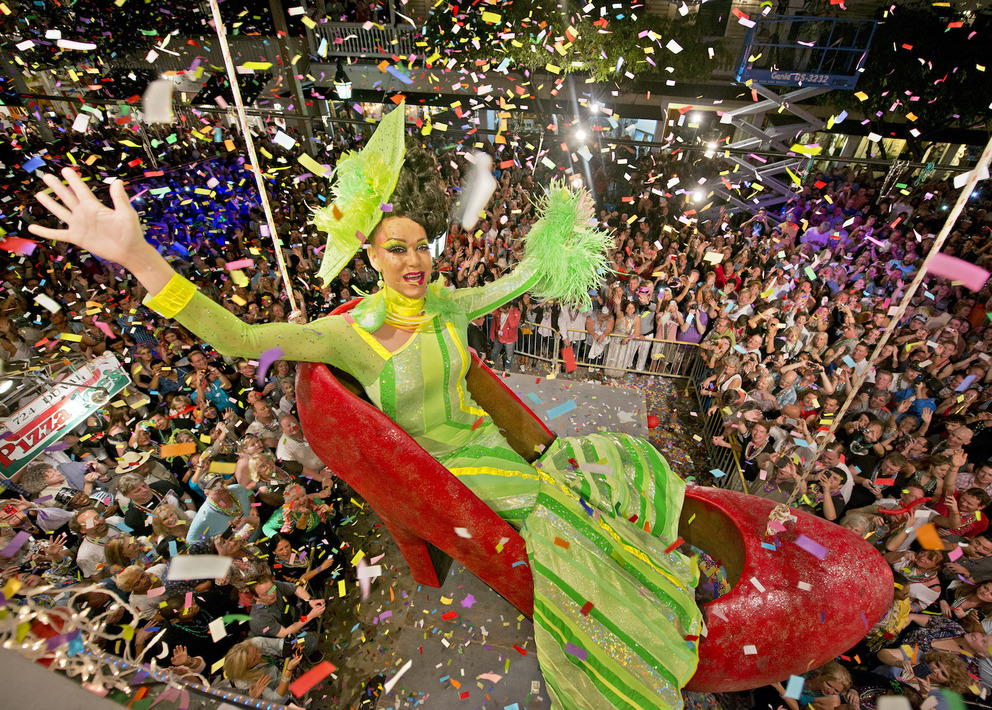 Watch the Shoe Drop with Sushi
Key West traditions are weird and whacky and never cease. In July, everyone's Ernest Hemingway for a day; in October, everyone's half-dressed for Fantasy Fest, and on the last day of the year, a drag queen called Sushi is lowered from a balcony on Duval Street in a giant, red, high-heeled shoe.
The Key West Shoe Drop began in 1996 at the Bourbon Street Pub on Duval Street. Legendary KW drag queen Sushi willingly got into a giant shoe made of chicken wire and paper mache on the New Orleans House balcony and was lowered to an adoring crowd in Duval Street. In NYC the ball drops; in KW a giant high-heeled shoe with a drag queen inside drops. It's not called Key Weird for nothing.
"Sushi" is the drag personality of Gary Marion, a Key West local since 1992. Marion has long reigned as the star of a weekly drag queen in Key West, and today performs with the world-famous 801 Girls. Marion helped nurture the island's drag scene, growing the cabaret show at the 801 Bourbon Bar. Today, the bar features two drag shows per night, seven days a week.
In 2015, Marion married his long-time partner on New Year's Eve, right before midnight.
In a CNN interview, Marion said that originally the celebration was part of the gay scene on the island, but today the tradition gathers people from all walks of life to Duval Street.
This year's shoe drop will be like previous celebrations, but as always, Sushi's dress is a surprise. Each year, Marion begins his work on the dress, which is kept secret until it's revealed during the grand show.
CNN covers the event annually. To participate this year, be part of the big crowd outside the New Orleans House at 742 Duval Street. VIP balcony tickets are also available and always sell out. For more info, check out the event page here.
---
---
---
---
Share your opinion on this article