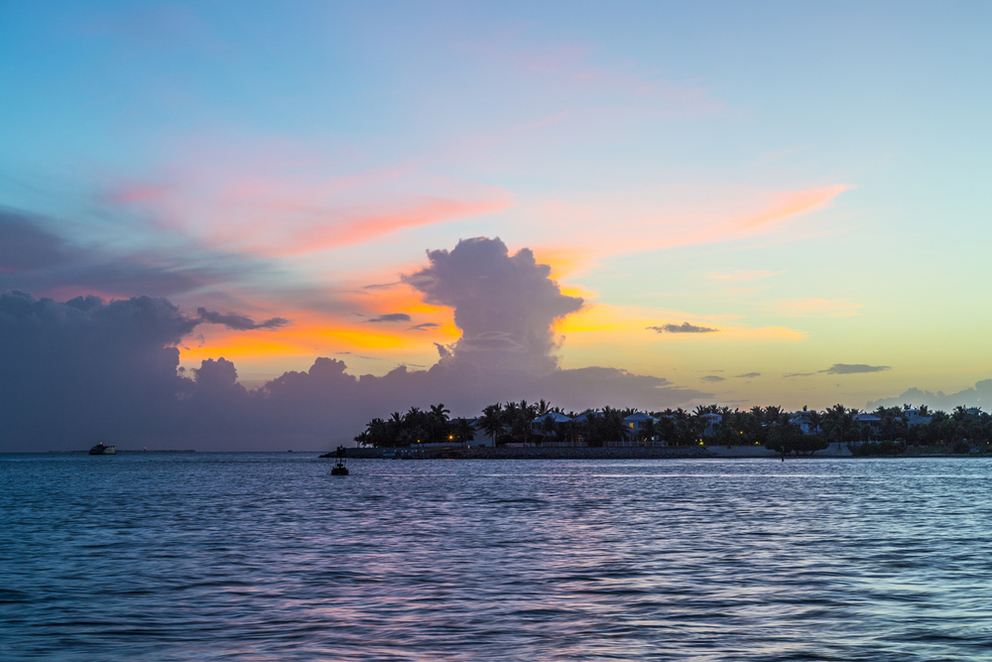 Your Key West Sunset Guide
Most places in the world probably don't have a sunset guide — but a Key West sunset is so glorious that it totally deserves one.
"See you at the sunset" was a popular phrase on the island in the 1960s, mostly used by hippies. The Key West sunset has been enjoyed for centuries by Native Americans, famous playwrights, authors and even John James Audubon.
Whether you're looking for a family-friendly sunset celebration in Mallory Square or something more off the beaten path, the Conch Republic has you covered.
Mallory Square Sunset Celebration
This is the most popular sunset attraction on the island, with tourists gathering in Mallory Square to watch the sunset over the Gulf of Mexico. Wonderful colors, cloud formations and even flashes of green can be seen in this nightly celebration. Every night, entertainers set up preceding the sun show: acrobats, musicians, comedians, knife swallowers and more. Enjoy an ice cream from a nearby stand as you watch the sun go down — or opt for dinner and drinks in Mallory Square and surrounding restaurants. We suggest you arrive an hour or so before sunset to take in the scene and get settled. Mallory Square posts sunset time daily on their website.
Sunset Cruise
If you want a front seat to the sunset, a sunset cruise is the way to go. Sunset cruises generally last 1.5 hours and include adult beverages (and, don't worry, bathroom access) aboard a catamaran. This is a leisurely way to enjoy Key West's world famous sunset. We recommend Fury Water Adventures to book your shared cruise on a catamaran, or for a more intimate setting of couples or small groups, opt for private charter Sunset Sail Key West.
Fort Zachary
If you want to get far, far away from the crowds, sunsets at Fort Zachary are a well-kept secret. To make an evening of it, arrive to Fort Zach a couple of hours before sunset to avoid the hottest part of the day. Explore the historic fort and coveted beach — and then sit on the canal and enjoy a quiet sunset away from it all. Fort Zachary does include an entrance fee if you enter by bike — available for rent at The Gates — as well as for cars. Check rates and hours on their website.
—
Booking a trip to Key West? Check out rates at The Gates Hotel
---
---
---
---
Share your opinion on this article