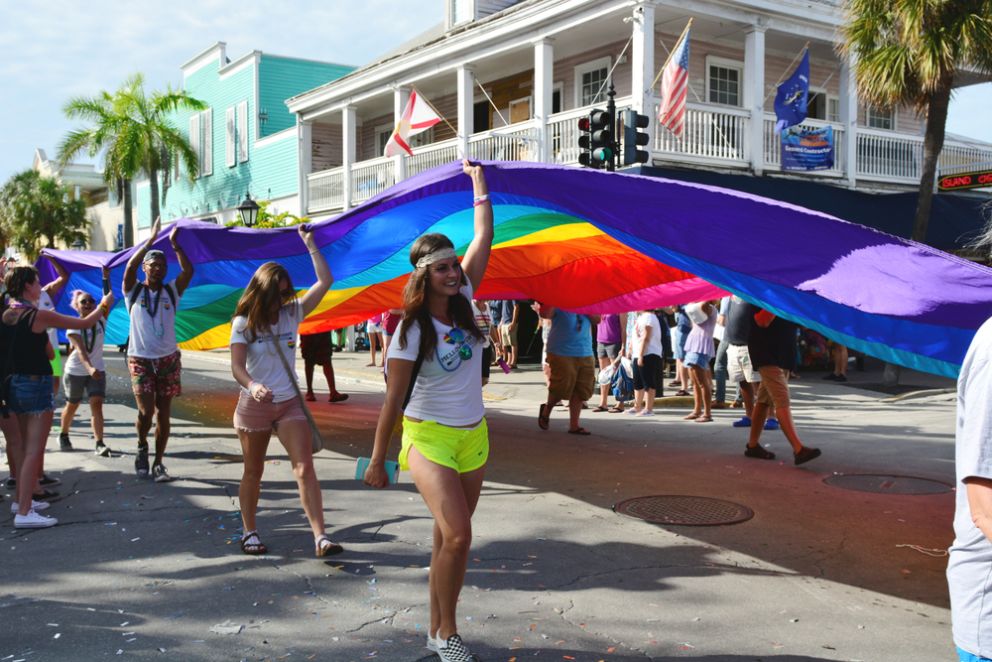 The Events We're Looking Forward to at Key West Pride
On an island that's as "live and let live" as Key West, it makes perfect sense that we were one of the first gay travel destinations in the country. It's also no surprise that Pride is a big holiday for us. After all, we do know how to throw a party. Where else do you get to carry the rainbow flag from coast to coast? That said, here are some of the Pride events you can't miss:
Miss Key West Pride Contest - Wednesday, June 5, 2019 @ 7:30 pm, 801 Bourbon
This yearly beauty contest is one of our favorites every year. Here, the beautiful ladies of 801 Bourbon (you might already know them by their nightly drag performances) get dolled up to compete for the title of "Miss Key West Pride." Expect these ladies to pull out all stops while they work it on the runway.
The Lavender Scare - Thursday, June 6, 2019 @ 8 pm, Tropic Cinema
Key West's retro independent movie theater will screen The Lavender Screen, a documentary about the federal government's unrelenting campaign to identify and fire government employees who were suspected of being homosexual. Presented by the KW Film Festival, this documentary is an important look at our civil liberties – and a good way to not party too hard Prevery night of Pride Week. For tickets, visit www.tropiccinema.com/event/the-lavender-scare
Gay Trolley Tour - Sunday, June 9, 2019 @ 1 pm
Key West has a gayer history than most realize. This trolley tour will open your eyes. Not only will you get to see iconic Key West sights, but you'll get the gay backstory as well. Think special insights about Key West resident and literary icon Tennessee Williams, as well as poet Elizabeth Bishop, plus a few surprises. The tour begins in Old Town at the corner of Angela and Duval streets. For tickets, call 305-294-4603
Gay Pride Parade - Sunday, June 9, 2019 @ 5 pm, Duval Street
This is the big one – and in our opinion one of the most beautiful representations of Pride in the country. Here you'll see the mile-long rainbow flag stretching from the Gulf of Mexico to the Atlantic Ocean, held up by members of the Key West community. It's a profound moment to witness in person.
Are you joining us for Key West Pride?
The Gates Key West ensures you do Pride in style. Check our availability here. And to see a complete list of events, consult the Pride schedule here. Key West Pride runs from June 5-9, 2019.
The Gates Hotel is a Condé Nast award-winning hotel located in New Town, which offers free hourly shuttle service to Old Town. Exciting onsite amenities – like a food truck, cigar lounge, and a spectacular swimming pool – puts The Gates in its own special category. Check out our special offers online.
---
---
---
---
Share your opinion on this article