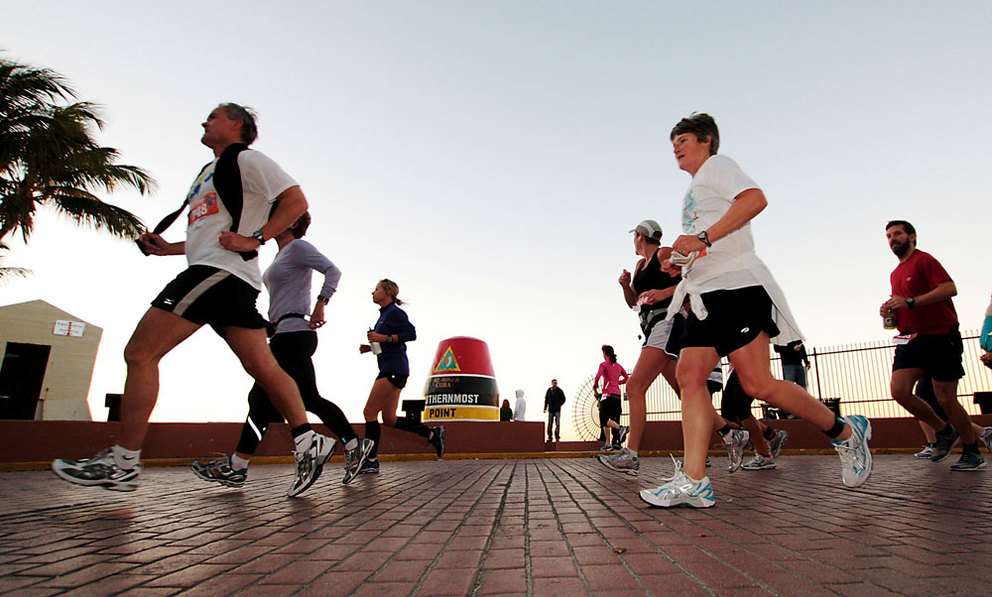 Photo courtesy of the Key West Half-Marathon
3 Scenic Running Routes in Key West
Photo courtesy of the Key West Half-Marathon
At about a mile wide and 4 miles long, Key West still offers its fair share of stunning running trails unlike anywhere else in the U.S. With its stretches of ocean and bright, blue skies, running in Key West probably isn't what you're used to at home. But for those who want to keep up their cardio on vacation (or perhaps run off the rum runners from the night before), check out these scenic running routes across the island.
This roughly 4-mile trail is the most popular route for runners in Key West. Leaving from The Gates, you'll take a right on Roosevelt Boulevard and follow it to the sea. The views along the seawall are the quintessential ones of the Key West horizon and the wind comes in strong off the water, making for an especially scenic route (and a refreshing one, too). The road eventually ends and turns to the right; follow it to Higgs Beach Park to cool off in the shade and hydrate. The stretch to Higgs Beach is in the full sun; we recommend going early in the morning or in the evening. Pack sunscreen for this one.
This 1.1-mile trail is located at the Fort Zachary Taylor Historic State Park and offers 19th-century views overlooking the beach. Open year-round, Point Trail starts at the western side of the parking lot and does a loop around the park along the seawall. Runners can spot iguanas, cruise boats on the horizon and are welcome to take a dip in the bright Caribbean waters to cool off. There is a fee to get in, but if you walk or bike to the entrance the fee is $2.50 (Rent one of The Gates' bikes to get there even faster). FYI, the park opens at 8 a.m. and closes at sunset, so plan accordingly. Better yet, head for your run late afternoon and catch the Key West sunset on your way back.
This loop is a nice 2.5-mile run through Old Town and its quaint neighborhoods. We like to take this route early in the morning, when businesses are just opening up (or shutting down), traffic is light and Key West has its peaceful morning glow. Begin at the Southernmost Point and head east on South Street. Take a left on Simonton Street and follow this across the island to Front Street where you take another left. Whitehead Street will take you back toward the Southernmost Point. Along the way you'll pass the Hemingway House. There's no running loop further south in the United States. Lace up and don't forget to pack water!
---
---
---
---
Share your opinion on this article