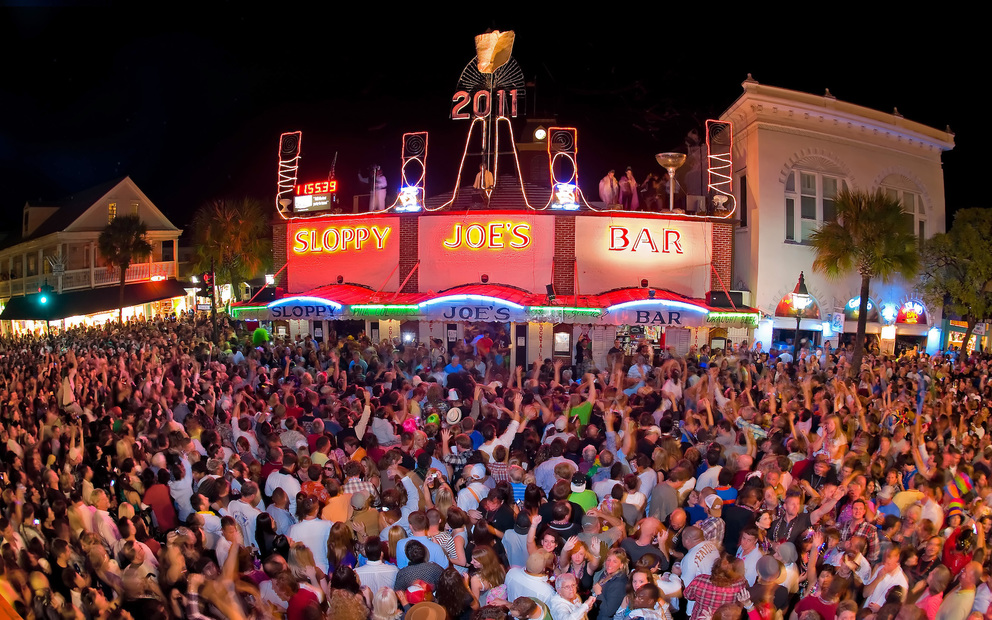 Best Places to Ring in the New Year in KW
Planning to ring in the New Year in Key West? The Conch Republic has their share of quirky celebrations that are an island tradition. Not sure whether you want to watch the shoe, conch or pirate wench drop at midnight? Here's some background on all the traditions to see which one suits you best.
New Year's Eve Sunset Cruises
If you really want to take in the last day of the year, enjoy a sunset cruise. Fury has affordable options for all needs, from appetizers and live music to a simple champagne sunset cruise. This is an island favorite to reflect on the past year and get ready for the new year. Book in advance and see your options here.
Mallory Square Sunset Celebration
If you'd rather stick to land on NYE, Mallory Square's final sunset celebration of the year seems to be the launch of all the island festivities. Join locals and tourists right before the sun goes down in Mallory Square to say goodbye to 2017 and hello to a night of festivities.
New Year's Fireworks
The island's so small you'll see the sky light up from anywhere, but for a heads-up, the fireworks are launched annually at the end of the White Street Pier on the Key West Harbor side of the island. This is a good option for those who want to avoid massive crowds like those expected on Duval Street.
Conch Shell Drop at Sloppy Joe's
A New Year's Eve staple at a Key West institution. Watch the giant conch drop in front of Sloppy Joe's. This is best if you aren't shy in a crowd -- it gets madly packed in front of Sloppy Joe's before midnight.
Schooner Wharf Party & Lowering of the Pirate Wench
This is one of the nationally-recognized parties on the island. Schooner Wharf Bar throws a massive bash at their spot on Key West Bight every year. There's live music, party favors and more with no entry fee. At the stroke of midnight on New Year's Eve, a pirate wench is lowered from the top of a ship down to the new year. Great escape from Duval Street if you're looking for something a little less packed.
Watch the Shoe Drop with Sushi
In NYC's Times Square the ball drops; in KW's Duval Street, a giant high-heeled shoe drops with a drag queen named Sushi inside. This KW tradition began in 1996 and has continued ever since. Read more about it here. Enjoy the tradition from the New Orleans House at 742 Duval Street. VIP balcony tickets are also available and always sell out. For more info, check out the event page here.
--
Ready to ring in the new year with us? See our specials.
---
---
---
---
Share your opinion on this article