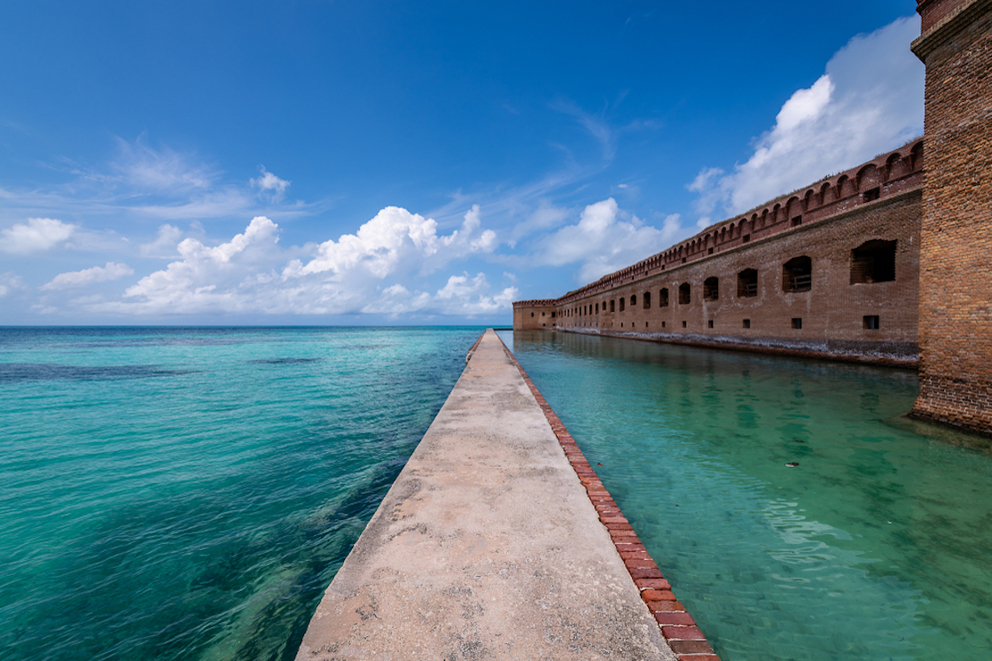 Take a Day Trip to Dry Tortugas
Located just 70 miles off the coast of Key West, Dry Tortugas is a chain of islands that make up one of the most interesting national parks in the country. Accessible by boat or air, the remote area is a draw to visitors because of its beautiful habitat and historic fort.

You won't regret a day trip to Dry Tortugas during your trip to Key West. Here's a look at what to expect.
Getting there
The most widely-used transport to Dry Tortugas is a daily ferry from Key West. The Yankee Freedom III is the only ferry service available from the island. The large catamaran is equipped with air conditioned cabins, bathrooms, a snack and cocktail bar, and an open-air deck.

The trip to Dry Tortugas lasts 2.15 hours, and departs at 8 am daily. It returns to Key West after 5 pm. Ferry admission may be a surprise to some (roughly $200 with taxes) but just about anyone you talk to will explain that it's absolutely worth it. Ferry fee includes park admission, breakfast and lunch, snorkeling equipment, and a tour of the fort. Enjoy the ride on the open-air upper deck or in cool cabins below. Make sure to book in advance, as the ferry can be sold out weeks in advance.
Tour the Fort
Fort Jefferson is a unique 19th-century fort was built after the war of 1812 but never completed. It was used controlled by the Union Army during the Civil War and later as a prison. Its most notorious inmate Dr. Samuel Mudd, who was believed to have been involved with President Abraham Lincoln's assassination.
Walk around the massive fort and marvel at one of the largest brick masonry forts in the Americas. Ferry admission includes a 45-minute tour of the fort to explain more of its rich background.
Snorkel
Some of the best snorkeling in the Americas is at Dry Tortugas. Its shallow waters and white sands lend way to corals, tropical fish and queen conchs. Snorkeling equipment is provided by the Yankee Freedom III, or you're welcome to bring your own. Guests can also use the fresh water showers aboard the ferry while it's docked.
What to Bring
Breakfast and lunch is provided, but any extra food you'll want to bring along with you. Make sure to pack reef-friendly sunscreen, a hat, sunglasses, a bathing suit, towel, and a change of clothes. There is a small gift shop on the island that's open a few hours a day and accepts cash. The Yankee Freedom has a cocktail and snack bar that accepts cash or credit cards.
--
Booking a trip to Key West? Check out rates at The Gates Hotel
---
---
---
---
Share your opinion on this article