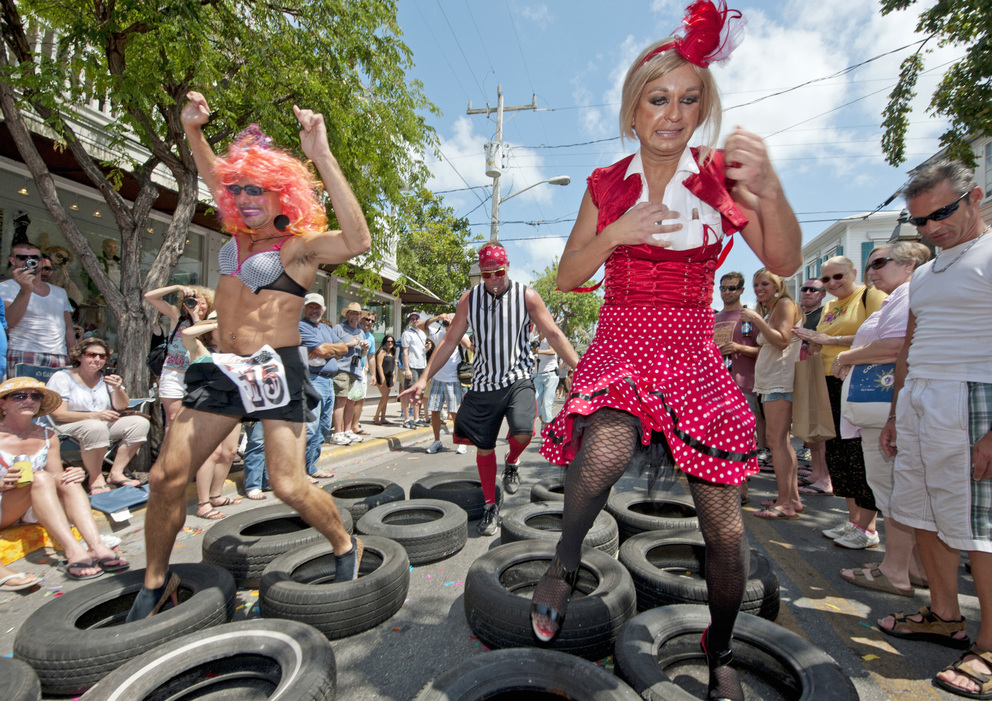 The Key West Drag Scene
Key West was the first country in the US to recruit gay travelers and has enjoyed a long history of being an inclusive, queer-friendly mecca. This has come with an excellent drag queen scene, which was slaying the scene well before the popular acceptance of drag culture that followed the rise of RuPaul's Drag Race.
So, where to start? Here we'll cover drag queen nightlife in Key West as well as annual events you don't want to miss out on.
Night Life
801 Bourbon Bar
See the world-famous Sushi and her 801 Girls during their raucously funny shows 801 Bourbon Bar. Daily drag shows at 9 & 11 pm are always raunchy and punchy with only the most comedic intentions -- If you're easily offended, we suggest you check out more traditional shows at Aqua. Drag Bingo is a Sunday night draw to this fine establishment. Buy tickets in advance at 801 the Bourbon website. 801 Duval Street
Aqua
For great prices and great pours, Aqua is a popular spot in the Key West drag scene. The "Reality is a Drag" cabaret showcases several times a week, and Aqua's karaoke usually makes for a good time. Check out the Aquanette girls at this beloved spot in the heart of Duval. 711 Duval St.
La Te Da
La Te Da is the mainstay to amazing talents Christopher Peterson and Randy Roberts, known for their excellent shows and impressions of gay icons, such as Cher, Joan Crawford, Liza Minnelli and Lady Gaga. Cabaret shows are every few days, so advance ticket purchase is highly suggested. Call the La Te Da box office at 305-296-6706 to order your ticket ahead of time. 1125 Duval St.
Annual Events
Great Conch Republic Drag Race
Held during the Conch Republic celebrations every April, the annual drag race is a high-heeled race on Duval Street. The 30-yard dash is completed by drag queens, who earn additional points for every additional half-inch added to the 3-inch heel minimum. The event is usually put on by the Bourbon Street Pub. Check the Bourbon Street Pub FB page for event info each spring.
Fantasy Fest
Fantasy Fest takes a step into the world that forms the concept behind drag, which is about exploring what's beyond yourself. This can come in the form of a wig, high heels, fantastical costumes and body paint. Drag competitions, impromptu dance parties and activities spring up every year at Fantasy Fest, so check this year's activity calendar in advance to see where the drag queens go.
Watch the Shoe Drop with Sushi
An island tradition for over 20 years, it's not new year's on Duval Street until Key West's famous drag queen Sushi is lowered from the New Orleans House balcony via giant high-heeled shoe. Sounds weird? It totally is, and we love it. The event is nationally broadcasted and always draws a crowd. Interested? Read more about the annual shoe drop.
---
Booking a trip to Key West? Check out rates at The Gates Hotel
---
---
---
---