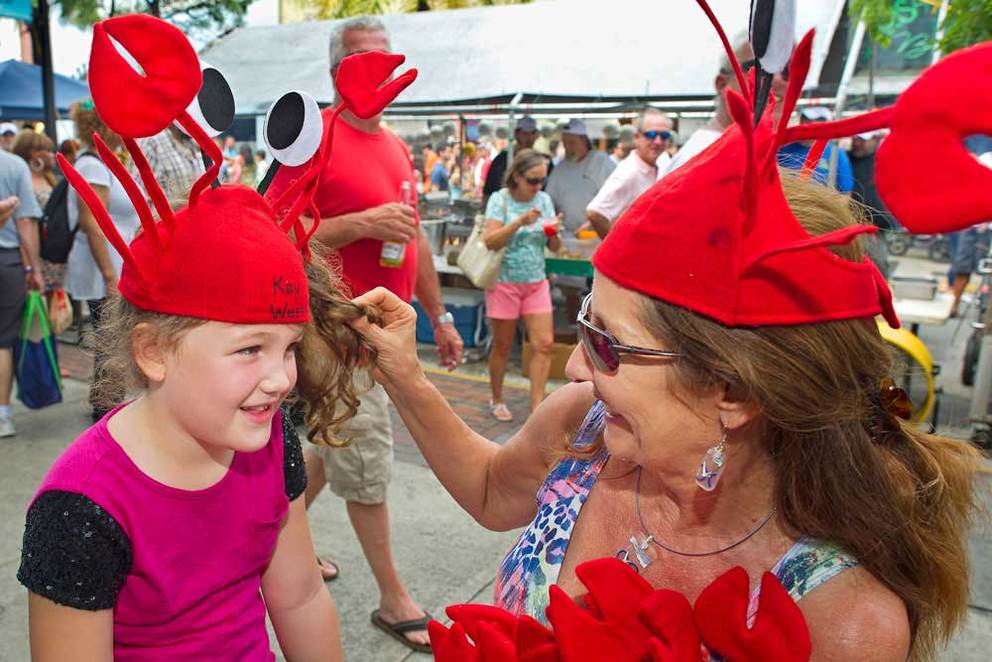 Photo courtesy of the Monroe County Tourism Development Council
Lobsterfest 2017
Lobster season is a big deal here in Key West. And when it opens, we can't help but party in honor of our favorite crustacean. Much like our key lime pie, the Florida spiny lobster is our pride and joy. So from August 6 to March 31, expect to be eating a lot of lobster, and on August 10, come celebrate the open season with a festival filled with lobster delicacies, 'ritas, and dancing in the street. Here are some Lobsterfest festivities to cross off your list during this year's Lobsterfest.
Reserve your spot at the Lobster Boil
Held yearly at the Sunset Tiki Bar & Grill on the Key West Bight, the Lobsterfest Lobster Boil is hands down the best way to kick off Lobsterfest. Not only do you get to eat with a gorgeous view of the water, but you get over a pound of the boil piled high on your plate, complete with lobster tail, andouille sausage, shrimp, crawfish, corn on the cob and new potatoes. The feast starts at 5 p.m on Thursday, August 10.
Visit the lobsters' natural habitat
One of our favorite Lobsterfest traditions has to be the Reef & 'Ritas cruise from Fury Watersports. A snorkel tour of the Florida reef, here you can head out on the catamaran with a margarita (or something else - they also have beer, wine, and champagne). When snorkeling, try to see if you can spot any lobsters hiding out on the ocean floor. This special Lobsterfest edition of the Reef & 'Ritas cruise only happens on Friday, August 11.
Eat your heart out on Duval
On Saturday, August 12, it's the motherload of lobster at the Lobsterfest Street Festival held up and down Duval. Here you can find every type of lobster - from grilled lobster, boiled lobster, lobster in tacos, lobster on a stick, and the classic lobster roll - and they're all delicious. So make sure to save some room - maybe even skip breakfast - and eat your heart out. FYI, bring cash. You won't find many stands that accept cards.
Dance on Duval
If you might have eaten too much at the different booths in the street festival - don't worry. Lobsterfest has a solution for that. Starting at 1 p.m. on Saturday, there will be live bands performing at the corner of Duval & Greene. You can dance off all you ate and drank and the sleepiness that comes with it, so you can head back to the lobster booths and eat some more. It's a win-win. Be on the lookout for the DurtBags, a local favorite.
--
Ready to join us in Key West? Check out our specials here.
---
---
---
---
Share your opinion on this article