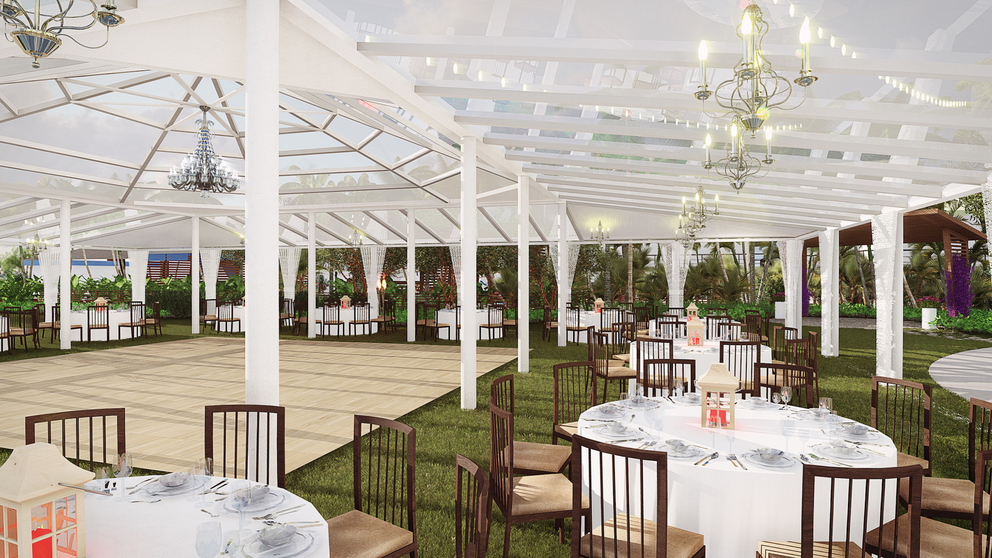 Why Our Sunset Green Lawn is the Perfect Key West Wedding Venue
Key West is an ideal spot for weddings or honeymoons. At The Gates Hotel, our newly-opened Sunset Green Event Lawn makes for a versatile event space that can live up to your wedding expectations.
The multipurpose event lawn has a capacity of up to 1,200 guests and its outdoor landscape invites guests to make it all their own in a laid-back setting.
Amenities from preferred vendors, including but not limited to tents, dance floors, portable air conditioning units and more, make for a flexible space that can fit all your needs.
The outdoor, spacious event space also has a beautiful pergola which is perfect for exchanging vows.
The Sunset Green's location at The Gates Hotel (and our sister hotel, 24 North), also makes it easy on you and your guests. The hotel rooms will be taken care of, and you'll also have all of The Gates' perks to choose from. Our poolside bar & cigar lounge is like no other on the island, with the Rum Runner serving up First Legal Key West distilled rum and Rodriguez Cigars.
5 Tips For A Perfect Key West Wedding
You and your guests will also have access to bike rentals and the Old Town shuttle, which runs throughout the day to and from Mallory Square and offers hotel guests a reliable and safe mode of transit.
Beyond the Sunset Green Event Lawn, Key West is also a desirable getaway for the happy couple and all their guests. Nature lovers and beach bums can enjoy the island just as much as festive revelers and those who want to spend the day at the mall. All ages are prone to enjoy the island, with vibrant nightlife and frequent daytime street parties. Mom and Dad will be happy, your friends from college will be entertained, and you can relax and enjoy the reason for the event.
Options for just you and your partner or with family are wide open. Sunset cruises are widely popular for special events, and prices are reasonable with groups of any size. A sunset cruise is the perfect addition to a destination wedding, as you and your guests enjoy your little private space in paradise. See sunset cruise options here. Also, feel free to ask our front desk for more information.
If you're interested in booking a wedding or special event, or to get more information about the Sunset Green Event Lawn, contact us for more info. We're happy to answer any questions.
--
Planning a trip to Key West? Check out rates at The Gates Hotel
---
---
---
---
Share your opinion on this article