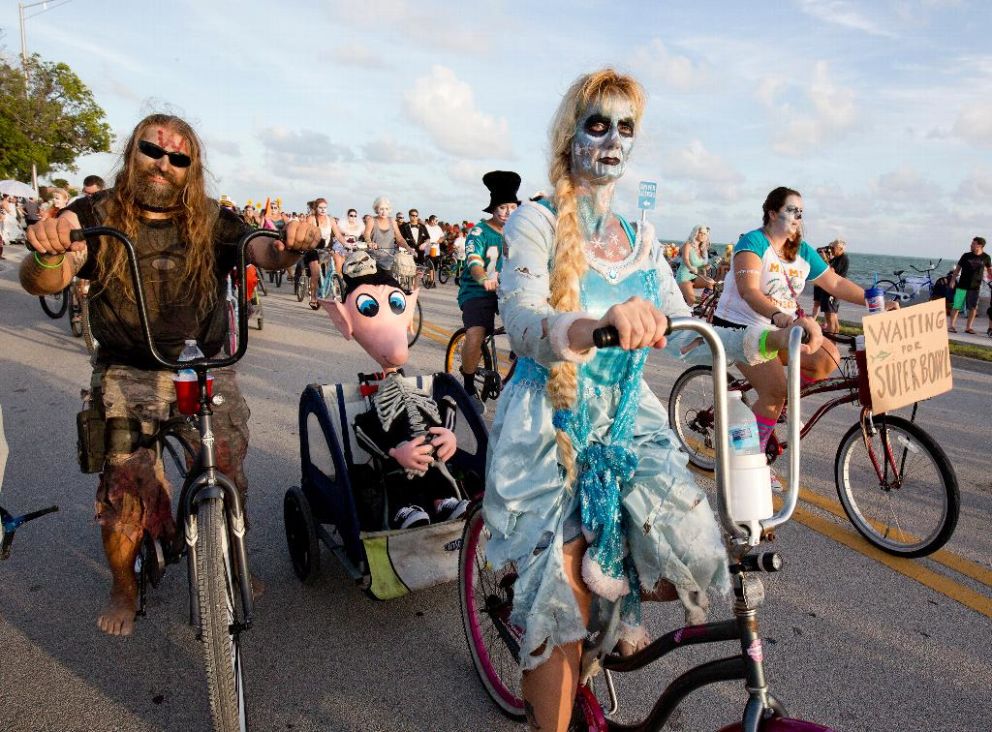 Things to Do in Key West this October
If you're traveling to Key West in October, you're in for a treat. October in Key West means Fantasy Fest (a 10-day party for adults), the Southernmost Marathon, a Zombie Bike Ride and more. Here's a look at the month's top events.
Oct. 12
Across Key West
The annual marathon marks the beginning of Fall in Key West. Full, half and 5k courses are the main events at this picturesque marathon in the southernmost island of the continental US.
Oct. 18-19
Bahama Village, Key West
This cultural street party is one of the few family-friendly events during Fantasy Fest and is free! Head to the annual block party of live music, dancing, food and crafts in the charming Bahama Village from noon until midnight. The main entertainment stage will be located at Petronia and Fort streets and will feature reggae, gospel, island music and more.
Oct. 20
Fort East Martello to Old Town, Key West
Put on your best zombie makeup and join thousands during this annual bike ride! "Zombieland" at Fort East Martello opens at 2 pm and the crew sets out at 6pm. The procession will head down Route 1 to Duval Street, completing the family-friendly zombie invasion.
Oct. 18-27
Across Key West
Celebrate 40 years of Fantasy Fest in Key West! Extravaganzas, royal coronations, headdress competitions, street festivals and a wild parade in Old Town is just a taste of the 10-day event. See the full schedule and expect a crowd.
Oct. 28
Sunset Green at The Gates Hotel, Key West
The Allman Brothers Band progeny will play an outdoor concert at the verdant Sunset Green Event Lawn following Fantasy Fest. Guests are encouraged to arrive early to get the best spot and are free to bring chairs and blankets. Doors open at 5:30 pm. See ticket info.

The Key West International Airport was named one of the busiest small airports in 2019. Key West is a tempting destination, and its accessibility has never been better.
Seasonal, direct flights are now available to Philadelphia, New York and Chicago from February through the end of August. Direct flights are currently available year-round from Newark, Charlotte, Dallas/Fort Worth, and Atlanta.
If you're thinking about a visit to Key West, don't delay! It's always summer in the Conch Republic.
The Gates Hotel is a Condé Nast award-winning hotel located in New Town, which offers free hourly shuttle service to Old Town. Exciting onsite amenities – like a food truck, cigar lounge, and a spectacular swimming pool – puts The Gates in its own special category. Check out our special offers online.
---
---
---
---