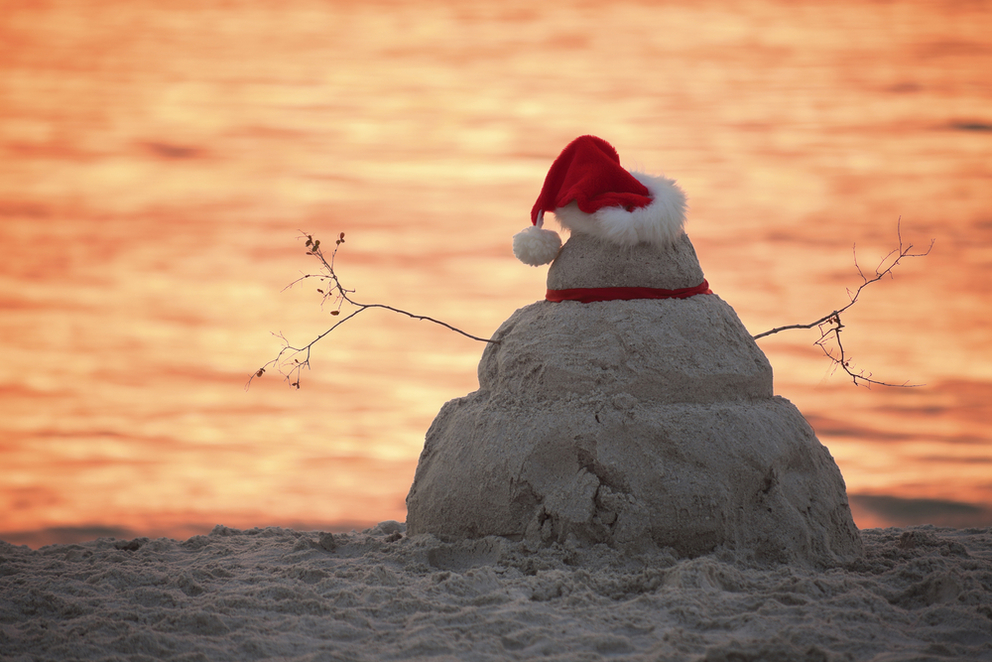 Holiday Events in Key West 2022
Spending the last month of 2022 with us here in Key West? Here are some of our favorite annual holiday activities and Christmas events to look forward to.
Although we strive to provide the most current information, attractions and events mentioned may be closed or canceled without notice. We recommend checking individual attractions for operating hours, updates, and safety measures before visiting.
Harbor Walk of Lights
Open now through New Year's Eve
Get your annual dose of Christmas lights along the seawall of the Key West Bight during the city's Harbor Walk of Lights, on display now until the new year. See the Christmas tree made of buoys, another made of lobster traps, and more maritime holiday decorations during this annual set-up. Visitors can enjoy local vendors, eats, and drinks on the harbor while taking in the holiday spirit. See details.
Holiday Village and BeLighted Christmas Bike Ride
Dec. 2, 4 - 8 p.m.
Head to the family-friendly Holiday Village at the Coffee Butler Amphitheater in Truman Waterfront Park at 4 p.m. on Dec. 2 for over 20 community booths offering games, goodies, crafts for kids, bounce houses, a DJ, food trucks, and pictures with Santa. Afterwards, decorate your bike with lights and participate in the BeLighted Bike Ride parade which will roll through Old Town at 8 p.m. Get your tickets in advance. Entry for the bike ride is an unwrapped toy or monetary donation for Holiday Helpers.
Pet Pictures with The Grinch at Hank's Hair of the Dog Saloon
Dec. 3, 11 a.m. - 2 p.m.
Bring your furry friend to the dog-friendly Hank's Hair of the Dog Saloon on Caroline Street for a silent auction, cocktails, bites, and professional photos with the Grinch, Christmas' favorite villain. Proceeds benefit River's Wish Inc., a non-profit senior dog sanctuary. For more holiday pics with your pooch, head to the Christmas tree at the Key West Bight Marina on Dec. 4 from 6 - 8 p.m. to get some shots with Santa. Stick around until Dec. 10 at 10 a.m. for the 9th Annual Parade of Paws & Holiday Bazaar at Higgs Beach.
At The Gates Key West, we understand that your doggo is an important companion, family member, and best friend. That is why we are a dog-friendly hotel! Check out our favorite dog-friendly restaurants across the island.
Hometown Holiday Parade
Dec. 3, 7 p.m.
For a small-town feel, the Hometown Holiday Parade features local high school marching bands and charming floats on Dec. 3 at 7 p.m. The Christmas parade starts at Bayview Park and continues down Duval Street to Eaton Street.
Monthly Artisan Market
Dec. 4 and 18, 10 - 2 p.m.
Back for the season, the Key West Artisan Market is a good place to pick up local, handcrafted holiday gifts for your loved ones. The market's seasonal edition will feature textiles, jewelry, foodstuffs, and more. This is a nice way to start a Sunday morning and pick up local goods you won't find anywhere else. Open from 10 - 2 p.m. at Higgs Beach on Dec. 4 and 18. See their Facebook page for more information.
Nutcracker Key West at Tennessee Williams Theatre
Dec. 7 - 11, select times
The bi-annual performance is the largest community production to hit the stage in Key West, starring 60 local kids, adults, and professional dancers from around the world. This isn't your typical two-act ballet of the classic tale. The Key West version features tiny chickens, humorous roosters, lively shrimp, and the jewels of the Atocha. Tickets to Nutcracker Key West are on sale now.
Old Town Trolley's Holiday Sights & Festive Nights Tour
Dec. 8 - 23, select times
Take in the cascade of lights and holiday decor of Key West's historic homes on Old Town Trolley's annual Holiday Sights & Festive Nights Tour. Each year, the historic homeowners participate in the friendly competition of going all-out on holiday decorations to see which one of them will win bragging rights and the $500 top prize. The 60-minute trolley tour also includes a fun narration with facts about the island.
31st Annual Key West Lighted Christmas Boat Parade
Dec. 10, 8 p.m.
Don't miss this tropical tribute to the holiday season. Boats of all sizes are decked out with lights – and with boatloads in prizes for best decorated, no detail is overlooked. Held at the Schooner Wharf & Bar, the parade begins at 8 p.m. on Dec. 10, with viewing along the Harbor Walk of Lights and the Historic Seaport. Read more.
Menorah Lighting Ceremony at Bayview Park
Dec. 18, 5 p.m.
The City of Key West's Menorah Lighting Ceremony will be conducted right before sunset, signaling the beginning of Hanukkah. Find Bayview Park in the center of Key West, on the corner of Truman Avenue and Georgia Street.
Fireworks at Sunset Green
Dec. 30
We're kicking off New Year's Eve early here at The Gates Hotel with a special fireworks display at Sunset Green. Check back here for more details, coming soon!
New Year's Eve
Dec. 31
Key West goes all out on New Year's Eve, and this year will be no exception. Countdown to 2023 at the Shoe Drop with Sushi at Bourbon Street Pub, Lowering of the Pirate Wench at Schooner Wharf, or the Conch Shell Drop at Sloppy Joe's.
Spending the holidays in Key West? See hotel rates at The Gates Hotel Key West, a Conde Nast award-winning Key West destination which offers hourly shuttle service to Old Town, a beautiful pool, and onsite food and drink services.
Now until Dec. 2, save up to 50% off with our extended Cyber Monday sale. See more.
---
---
---
---
Share your opinion on this article