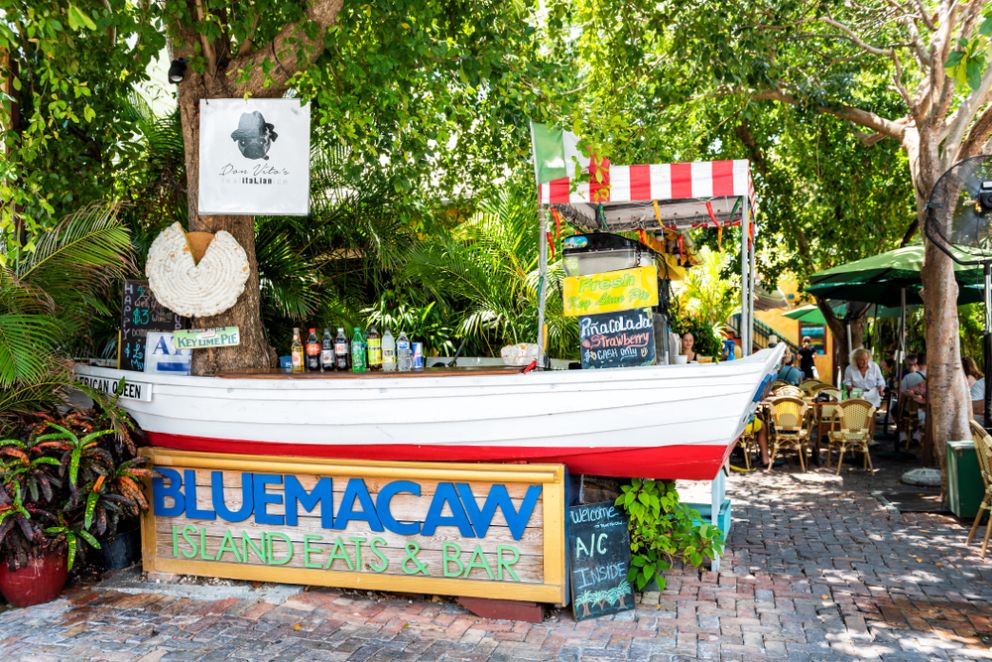 5 Best Outdoor Dining Spots in Key West
Key West is an open-air kind of place that lets in blue skies and sunshine at every opportunity. At The Gates Hotel Key West, we want our guests to enjoy their time poolside as much as possible, which is why we have an onsite food truck and outdoor bar close at hand – because you didn't come to Key West to be indoors.
Take advantage of our beautiful weather and laid-back, island feel with outdoor seating at these five Key West restaurants.
1. Enjoy views from the wraparound porch at Bagatelle
Set in a historic Victorian house on Duval Street, Bagatelle offers a lively vantage point of Key West's favorite street from its wrap-around porch located on the first and second floors. Overhead fans keep the air moving, and brunch served seven days a week can't be beat. Visit for breakfast happy hour from 9-11:30am daily, or afternoon happy hour from 4-6pm. 115 Duval St.
2. Overlook the harbor at A&B Lobster House
Watch boats come in and out of the Key West Bight at this beloved waterfront seafood restaurant. A local mainstay since 1947, A&B is the perfect place to take in the sunset and perfectly-prepared seafood. Try Key West lobster when it's in season for a taste of something local. 700 Front St.
3. Eat & drink under the trees at Blue Macaw Island Eats & Bar
Some days it's so hot in Florida you could sell shade, so the luscious greenery at Blue Macaw in Bahama Village is a welcomed reprieve from the sun. Sit out on the patio and enjoy live music, Caribbean pub fare, and hit up the beloved Bloody Mary Bar for your daily dose of vitamin K. 804 Whitehead St.
4. Take in excitement of Mallory Square at El Meson de Pepe
In case you don't know, Mallory Square is where locals and tourists go every evening to celebrate the island's glorious views of sunset – and El Meson de Pepe is a Cuban family-style restaurant set right in the middle of the action. Arrive two hours before sunset and grab a seat outdoors, and you'll see street musicians and entertainers begin to gather in preparation for the evening crows. Best of all, El Meson de Pepe features live salsa music every day before sunset. 410 Wall St.
5. Sit dockside at The Stoned Crab
The Stoned Crab is the only one on our list located outside of Old Town, and its dockside seating offers views of our underwater neighbors – namely, nurse sharks, which are fed at posted feeding times daily. This is a fun place for kids, where they can move about and not be confined. Eat local seafood and enjoy a quieter side of Key West. 3101 N. Roosevelt Blvd.
--
The Gates Hotel Key West is recognized by Condé Nast as one of the best hotels in Florida. Located in New Town, our regular shuttle services to Old Town make your trip laid-back, relaxed and easy. Enjoy a day by the pool with bites from our food truck or a drink from our onsite bar and cigar lounge.
---
---
---
---
Share your opinion on this article