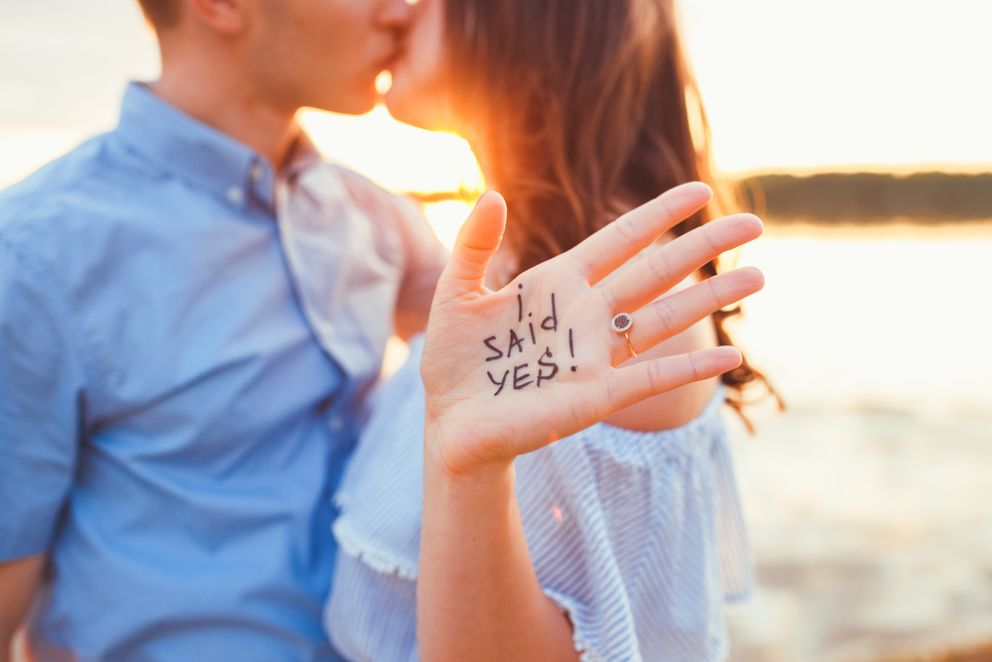 10 Epic Places to Pop the Question in Key West
Key West is a popular destination for weddings and honeymoons. But before all that comes the proposal, which requires a certain kind of setting. Thinking of popping the question but not sure where? Let us be your guide. Here are the absolute best places to propose in Key West.
1. Fort Zachary Taylor at Sunset
You may have heard that Key West has pretty epic sunsets (it's true). For an intimate place to watch the sun go down, Fort Zachary Taylor State Park on the westernmost end of the island is surprisingly sparse in the evenings, and offers stunning, unobstructed sunset views from its rock-lined shore. The National Historic Landmark also has a Civil War fort with brick archways that serve as a gorgeous backdrop for photos.
If you want others to join in on the celebration (and you're absolutely certain your love will say 'yes'), the Sunset Celebration at Mallory Square is another fun, memorable sunset option.
2. Out On the Water
Your special someone may enjoy a romantic sunset cruise with Champagne leading up to that big, life-changing question. Plus, there's always something magical about being out on the water. Book a cruise aboard the Fury Catamaran and let them know your intentions ahead of time to plan accordingly. Fury's Sunset Sail features some of Key West's best musicians performing live to the backdrop of the setting sun, plus margaritas, Champagne, wine, and more.
3. Dry Tortugas
While Dry Tortugas isn't technically part of Key West, the island is the typical point of departure to this national treasure. You can plan a day trip of snorkeling and exploring the unique 19th-century fort before proposing, which would make for a very exciting evening ferry ride back to Key West. The moat walkway, pictured above, is an excellent place to ask someone to marry you (and spot different types of coral and tropical fish!).
4. Restaurant with a View
Restaurant proposals will never go out of style. If you are considering a proposal over dinner, you'll want to think about your options. A restaurant that holds a special place in both of your hearts is a natural spot for a proposal, but, if you're both new to Key West and don't know where to start, let us help. For ocean views, Hot Tin Roof located at 0 Duval St. has great seaside seating. For something more formal, book a table at the upscale Latitudes on Sunset Key, an eight-minute boat ride from the island (Latitudes provides a private charter for the occasion).
5. Edward B. Knight Pier at Higgs Beach
If you're more of a sunrise couple, consider the Edward B. Knight Pier at the end of White Street. It's considered one of the best places to see the sun come up. The expansive pier extends nearly 1,100 feet into the crystal clear waters, so there's plenty of space to find a quiet spot for a proposal.
[Looking for a Key West wedding venue to impress? The Sunset Green Event Lawn provides the perfect setting for whatever you dream up for your special day]
6. Hemingway Home
"...we would be together and have our books and at night be warm in bed together with the windows open and the stars bright." - Ernest Hemingway, A Moveable Feast
Perhaps a trip to the Ernest Hemingway Home is in order to fill the pages of romance. The 1930s colonial-style estate is beautiful, and its surrounding gardens and cobbled paths are filled with lush greenery, tropical plants, and fragrant gardenias.
7. West Martello Tower and Gardens
The historic martello tower (a small, defensive fort), just steps from Higgs Beach, was constructed during the Civil War and has been on the U.S. National Register of Historic Places since the 70s. The ruins are quite breathtaking, and are surrounded by a garden of native and exotic trees and plants, gazebos, and a fountain and waterfall. West Martello Tower is one of the true hidden gems of Key West.
8. Love Lane
While there isn't much going on along the Love Lanes of Key West (there are three), how many people can say "we got engaged on Love Lane"? The quaint streets in Old Town are lined with colorful Bahamian houses and historic bungalows with palms and tropical plant landscaping. This is perfect for couples wanting a super secluded spot. You can find the many Love Lanes of Key West: 1) on the northside of Southard Street midway between William and Elizabeth Streets, 2) on the south side of Fleming Street between Elizabeth and William Streets (unmarked walking lane that begins at the edge of the Monroe County Public Library), and 3) on the south side of Southard Street.
9. Key West Lighthouse
Of course, jaw-dropping views are really what make the Key West Lighthouse one of the best places to propose in Key West. The stunning backdrop and views of the Gulf, Atlantic, and surrounding keys make for an unforgettable moment. Just walk up the 88 steps to the top of the 19th century lighthouse for this "high"-end proposal.
10. The Kapok Tree
One of the most famous Kapok trees in the country can be found right here in Key West, and it's at 513 Whitehead St. near Mile Marker 0. The natural landmark is estimated to be over 100 years old, with an impressive trunk circumference of over 30 feet. If you propose during the spring or summer, you may just be doing so under its pink and white blooms.
So you've popped the question at one of the best places to propose in Key West. Now it's time to find a wedding venue. The Sunset Green Event Lawn at The Gates Hotel makes for a versatile event space that will live up to your wedding expectations. If you're interested in booking a wedding or special event, contact us for more information. We're happy to answer any questions.
Traveling to Key West soon? Click here to find what special perks are waiting at The Gates Hotel, a Conde Nast award-winning Key West destination.
---
---
---
---
Share your opinion on this article