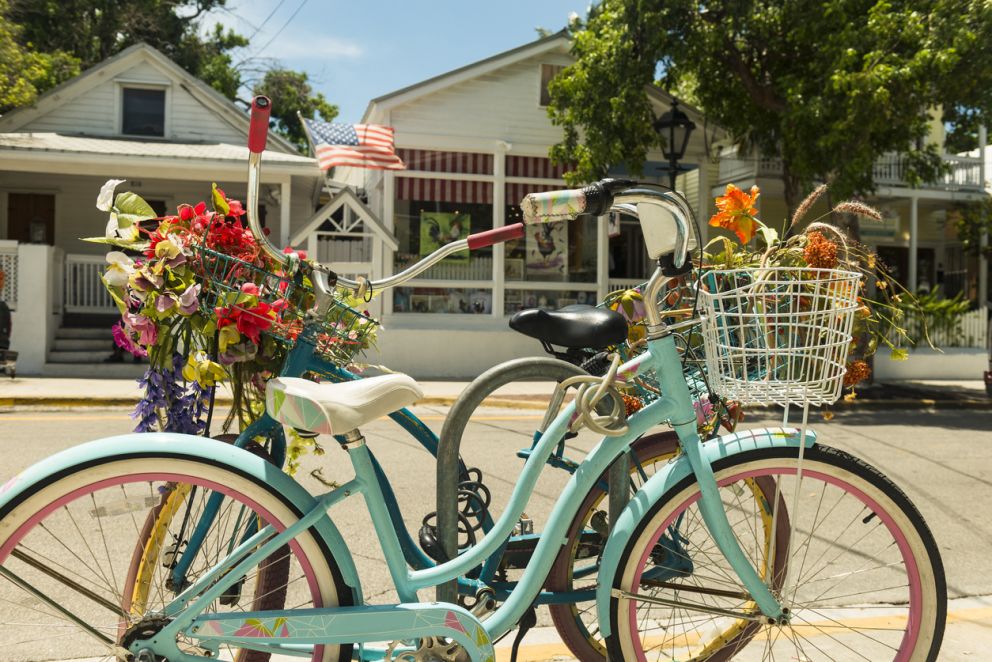 Staying in Key West Without a Car? No Problem!
On the fence about renting a car in Key West? Unless you're planning a day trip outside of the island, it's not necessary – you can get by just fine with other modes of transportation! Here are the reasons going without a car in Key West is an advantage.
You can stumble upon unexpected gems in Old Town
Key West's Old Town is a pleasant place to walk around. The old neighborhoods are especially charming, where you'll spot our resident roosters and blossoming bougainvillea. Duval Street is packed with art studios, bars and restaurants, so serendipity is always just around the corner – which is easiest found on foot.
Also, make use of the city's new Mall on Duval program that creates a pedestrian-friendly promenade for guests on Duval Street during the weekends.
The hourly shuttle service to Old Town is reliable and easy
Guests staying at The Gates Hotel Key West can enjoy rides to and from Old Town straight from their hotel room. Grab a seat on our shuttle, which runs every hour from 8 am with the last ride returning from Mallory Square at 11 pm.
The Conch Republic is best explored by bike
Key West was made for beach cruisers – which are included in your stay at The Gates Hotel. Explore our best beaches, history, and other points of interest at your own pace. And, let us suggest 3 Great Bicycle Routes to get a feel of Key West during your stay.
You don't have to worry about parking or choosing a DD
Any local will tell you that parking can be a hassle in Old Town because of the limited space. By relying on shuttle service, this unnecessary stressor is out of the equation, so you can spend more time enjoying yourself than remembering where you parked the car.
Trolley service & golf carts
If walking or biking isn't an option for you, don't be deterred! There are lots of ways to sightsee and still stay off your feet. The beloved Conch Tour Train is an informative way to get a feel of the island and it brings you to all the top destinations: the Hemingway Home & Museum, the Butterfly Conservatory, the lighthouse, the Shipwreck Treasure Museum, and more.
You might also be thinking of renting a golf cart, electric car, or scooter, which are all popular choices for Old Town. Here's our guide to alternative transportation in Key West and which works best for you.
If you're thinking about a visit to Key West, don't delay! It's always summer in the Conch Republic. The Gates Hotel is a Condé Nast award-winning hotel located in New Town, which offers free hourly shuttle service to Old Town. Exciting onsite amenities – like a food truck, cigar lounge, and a spectacular swimming pool – puts The Gates in its own special category. Check out our special offers online.
---
---
---
---
Share your opinion on this article