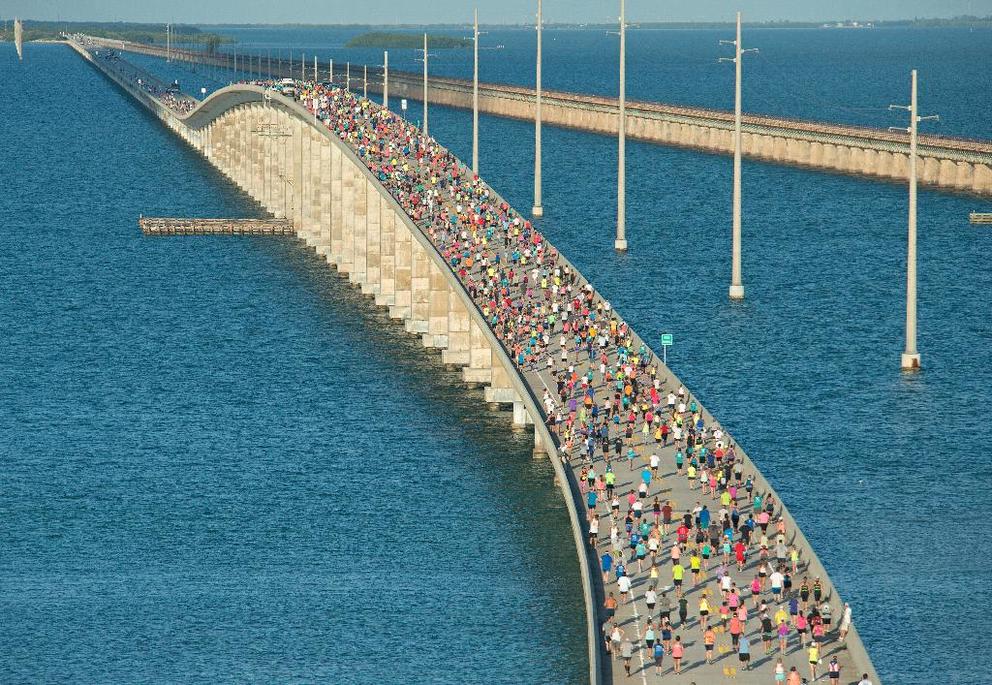 Your Comprehensive FL Keys Marathon Guide
The balmy weather and open horizons make the Florida Keys a special spot for marathons, 5k's and the like. If you're a newcomer to running and are set on a 5k, or looking for a high intensity 26.2 or even 100, there's something for all runners in Key West. Here are some of our favorite marathons, runs, 5ks and walks across the Keys.
6.8 m
The most famous run in the Keys, this bridge run started in 1982 and takes place each spring in the lower Keys. Completely surrounded by water, the run has a limited 1,500 spots, all of which are filled immediately online once opened.
When: April
Benefits: Marathon Middle School Athletics
[3 Scenic Running Routes in Key West]
100k, 50k
The fun thing about Keys100 is its versatility. The 100k can be ran individually or in teams up to 6, each taking on their leg of the run. The 100k starts in Key Largo; 50k in Marathon. The run ends in Smathers Beach, Key West.
When: May
Benefits: Prostate cancer research, Cancer Research Center
5k
Ok, these 100ks are great, but where's the family-friendly, fits-all-sizes run? The Hemingway 5k and Paddle Board races are for anyone, as it can be walked, skipped, or ran, and goes through Old Town and along the Key West waterfront. The event is part of Hemingway Days, commemorating the late great author, Key West resident and character.
When: July
26.2 mi., 13.1 mi., 5k
From Key West to Stock Island, this flat-terrain marathon still requires its share of preparation and conditioning. The run is internationally famous for its iconic landmarks, ocean views and excellent January weather.
When: October
13.1 m, 5k
Everyone loves this marathon for the usual reasons -- and to make it totally Key West, finish line is at the Half Shell Bar, and packet info locations are also designated Key West watering holes. With 4,000 participants, the course runs the Florida Keys Overseas Heritage Trail, offering excellent ocean views that make your January run all the more sweeter.
When: January
---
Booking a trip to Key West? Check out rates at The Gates Hotel
---
---
---
---
Share your opinion on this article