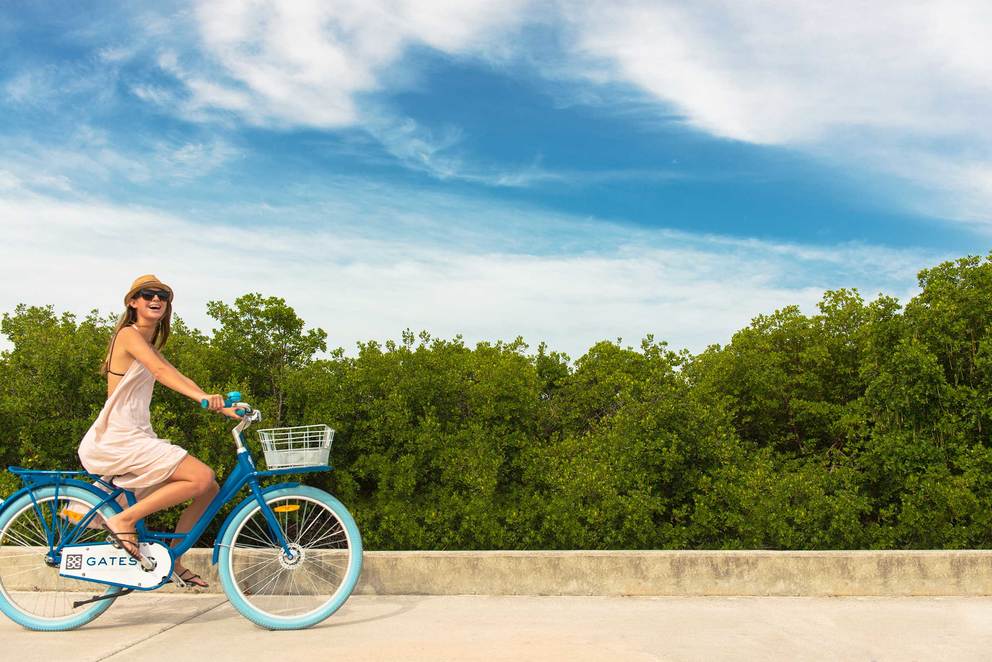 10 Things to Do in Key West
Planning a trip to Key West? Not sure where to start? Luckily the island is easy to explore – it's not quite four miles long nor two miles across. Here are 10 things to do while in Key West.
The Conch Republic was made for exploration via bicycle! The island's slow place is best enjoyed without having to worry about parking or traffic. At The Gates Key West, guests can rent sleek Martone bikes direct from the hotel. Check out bike maps from the City of Key West and explore history at every turn.
Whether you want a sport fishing trip, a leisurely dolphin-watch or snorkel outing, the charter boat options in Key West are endless. Sip on champagne and enjoy exquisite sunsets while on the water with Fury Water Adventures Key West. See special deals and packages.
It's not every day you're at the southernmost point of the continental USA. Take a photo with the iconic, cement buoy – think of it as a tourist's rite-of-passage.
While on the Conch Republic, it's essential to eat a conch fritter. Taste the very best at The Conch Shack in Mallory Square, best served with Key lime dipping sauce.
Key West sunsets are so beautiful that locals and tourists celebrate sundown every day at Mallory Square. Join the crowds and activity at Mallory Square to watch the sky turn all kinds of colors when the sun sets.
The Florida Keys has a long history with rum, rum-running, and rum runners (yum). Try local rum at our onsite bar at The Gates Hotel Key West that pours spirits from the island's First Legal Rum Distillery. Read more.
Something about the climate mixed with the tanginess of Key limes and the sweetness of graham cracker crust makes consuming this creamy pie an island pastime. Not in the mood for pie? Taste Key Lime in all its forms, from martinis served in bars across the island to peanuts at Kermit's Key Lime Pie Shoppe.
Duval Street is the home of Sloppy Joe's, awesome New Year's celebrations, numerous street fairs, and is the main party hub in Key West. You can't visit Key West without enjoying the street's many watering holes. Bonus: The Gates Hotel Key West offers hourly shuttle service to and from Old Town so you can leave the car keys at home. Read more.
Reaping the benefits of another man's tragedy is part of Key West history, with the island's founding communities living off the area's constant shipwrecks. Mel Fisher was one of the best treasure hunters in the world. After a lifetime of dedication, he found the motherlode right off the coast of Key West. Read more about Mel Fisher and make sure to visit the Mel Fisher Maritime Museum while in town.
Don't be scared. People who visit Key West for Fantasy Fest always come back. Enjoy 10 days of costumed parties, partial nudity, street fairs and celebrating all that's weird and wacky. Brave the crowds and book ahead for Fantasy Fest, the island's party of the year!
---
Traveling to Key West? Book our special package that includes tickets to Rick Springfield and a stay at our Condé Nast award-winning hotel, The Gates Key West.
---
---
---
---
Share your opinion on this article